How To buy a stone bathtub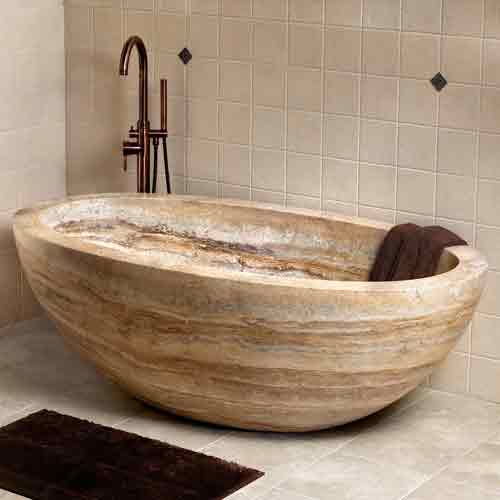 stone tubs/stone tub Project/Buy bathtubs
Specifications
How to buy a stone sculpted 54 inch freestanding bathtub?
If you have a large traditional bathroom, with close-coupled toilet, pedestal washstand, corner framed shower enclosure, Then make sure do not choose a paneled bathtub under the window. Instead of paneled bathtub , please consider about 54 inch freestanding bathtub,a stone sculpted pedestal freestanding bathtub is easy to clean and looks amazing in the bathroom, 54 inch bathtubs are usually standard bathtub size, but if you have a modern large bathroom, we could custom a large contemporary freestanding stone bathtub for you. How to buy a 54 inch freestanding marble tub? Here's our questions again: how to buy a 54 inch freestanding bathtub? The questions begin from: how to choose the color and size? If you have a large bathroom, make it large stone bathtub at least 72 inch length, if your bathroom is small, you could choose 54 inch stone bathtub length. For the color? The white fitting sit on white walls, with color, texture, and pattern offered by a traditional rug on the dark hardwood floor, while the cushions suggest softness, So A White Marble Stone Carved Bathtub is your first choice (for tradition bathroom which freestanding bathtub under the window.)
Custom the bathtub size 54 inch bathtub for yourself buy bathtub from NEW HOME STONE now We are stone sculptor factory in China , We could ship the stone bathtub to your country port or address of your home. We also could hand carved marble fountains,marble fireplace mantel etc.all of our work are high quality and get 5 stars views on houzz. If you want to get marble fountain for sale, email us too.
-Natural travertine material.
-Artisan crafted entirely by hand for impeccable quality
-Beige color with naturally-occurring pinholes creates dynamic texture in an easy-to-match shade
-Surface can be polished or unpolished to suit your tastes
-Available in any size to complete the interior design of the bathroom
-Customizable, carved-to-order to ensure a perfect fit
-Luxurious look for the contemporary boutique hotel
-This style is the one we suggest first if you buy bathtub
message
products
online consulation
contact us
NEW HOME STONE
photo :
Jack Gao
Tel: +86 13911444383
Email: Newhomestone@gmail.com
MSN: Jackg1983@hotmail.com
Skype: Terry-2012
Ad: RM1708,NO.140 Building,Tuqiao Street,Tongzhou
District,Beijing,China